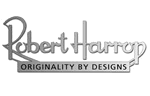 Robert Harrop, one of the UKs leading modellers of Commemorative Figurines has produced a wonderful Limited Edition Piece featuring Noggin, Nooka, Graculus and certain Nogbad the Bad.
Read all about it HERE It really is beautifully crafted, Peter, Oliver and Loaf have been consulted throughout the design process, and we are delighted...even down to the backs of the thrones and Nogbad's ermine robe!
Its a Limited Edition of 600 and if you would like to buy one, its best you contact the Harrops themselves.
Model Height: 155 mm. It comes with a Numbered Presentation Box