Click here for a
Overseas customers see further down the page....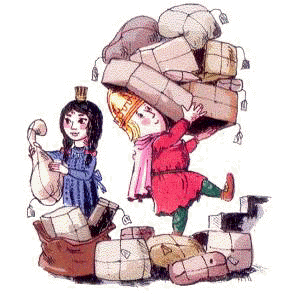 All items are in stock and ready for immediate delivery, unless otherwise stated.


Hello - the fact that you're here, hopefully means that you've found something you want. There's a couple of things you need to know first though...
Click on the Crest or link to the left to open an order form. There you can order and examine all the goods and their combinations. If you have a special request - - please let us know and we will do what we can to help
Payment
The Dragons traditionally prefer payment in gold or precious jewels but to order directly from us ...
You can pay for your order by cheque, payable to The Dragons' Friendly Society, or postal order.
You can also send cash, but by registered post, and in notes only. Round it UP.. we will send your change back with your order.
However to pay by credit or debit cards you can order from our online partners .. for more information click here. You can also buy DVDs of Bagpuss and Ivor the Engine and the Clangers.
~

P&P

Postage and Packing prices quoted are within the UK only.

~

Overseas Customers

Due to the high cost to us of postage overseas, you may find it considerably cheaper and easier to order our products through our online distributors, who also take credit cards

~

Overseas Customers should also note that the DVDs and VHSs are PAL format only. Our DVDs are Region 0, and therefore not limited to where they can be played, but please ensure that your computer/DVD equipment can cope before ordering!

~

Delivery

Your order may be delivered in separate parcels.

Your order can be sent to a third person as a gift - or in plain packaging if you request it.
~
or ....To Buy Online
If you want to buy from one of our distributors, and use your credit cards.... click here
~
or ....To Buy from a Shop...
Our Videos and DVDs are available in BBC shops
Addresses and details may be found here
~
Also visit Cosmo China in London and Canterbury. Click on the Link below



Click here to contact The Society

To Pay by Credit Card ...and to buy Bagpuss, Ivor the Engine and Clangers DVDs click here
With a credit card you can immediately order from this fast and friendly ebay shop

click here to visit

or ....To Buy from a Shop...
Our Videos and DVDs are sometimes available from the Shops of the
Addresses and details may be found here