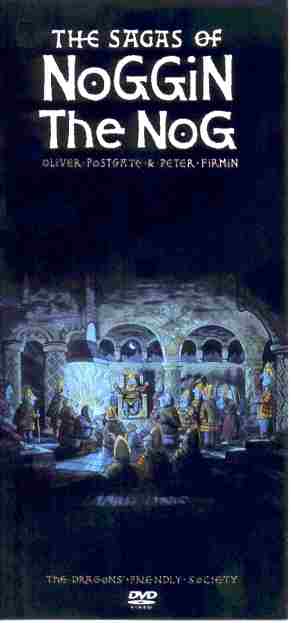 Old Pogle News.
In 2002 we hosted for the third year a celebration of the works of Oliver Postgate and Peter Firmin at the National Film Theatre London
There was a screening of selected episodes drawn from The Smallfilms Treasury, the Clangers, Noggin the Nog , Ivor the Engine and Bagpuss,and there was the chance to meet Oliver Postgate and Peter Firmin and to share with them some recently revived films.
It was a very delightful evening. The now elderly puppets of Mr and Mrs Pogle, Pippin and Tog were all there with Master Hedgepig (and the Witch !) and we watched some of the episodes of Pogles Wood which Oliver Postgate had commissioned the Dragons to locate, repair, clean up, and otherwise twiddle with.
Click HERE to read about the Episodes
The 5 episodes shown : Strong Music; A Little House; Flowers; Bricks; and A Paper Tiger were feared lost due to deterioration in the original films and their absence from the BBC library.
At the screening people had a a rare chance to thank Oliver and Peter for the influence they have had in the lives of so many children, and to ask questions bout their storytelling, models, illustrations and work, the true value of which is at last being recognised.
It was lovely to hear the gales of laughter as the characterful and quirky humour of the Pogles was re-discovered. We were also delighted to have the late Vernon Elliott's daughters with us to hear their fathers music being applauded.
A great little chap called Detsi was running around with the microphone, and it was a pleasure to hear people expressing their thanks and their questions for Oliver and Peter.
Peter's grandson Gabriel made an appearance too, as Pippin ... and also made a disappearance !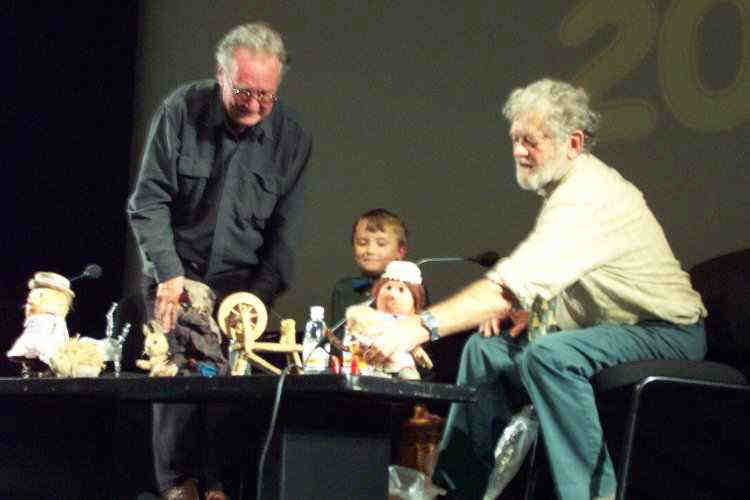 To read Jedi's account of 2002's event.. click on the photo above.

Peter Firmin 1928 - 2018
https://www.theguardian.com/tv-and-radio/2018/jul/01/bagpuss-clangers-basil-brush-creator-peter-firmin-dies-aged-89
When I think about Peter, as I have been quite a lot recently, I think of a man who made the most of every opportunity.
Fascinating career, heavenly marriage and relationship, moved to a wonderful idyllic farmhouse with a young family. A man who gave so much pleasure but enjoyed every second of the journey. He made everything he touched better.

I feel that he lived without regret, fulfilled in work, art, family, home, surrounded by projects, hobbies and interests. I remember ringing to speak to him once.

'Hello Loaf' said Joan 'I'll take the phone out to Peter'

I'm sure I heard her climbing a ladder.

'Hello Loaf' said Peter, who at the age of 80 odd was repairing his roof. He had just come back from crewing a sailing ship, climbing the rigging and all that Tall ship racing entails. He sent me a CD Rom of photos from the trip.

I remember when he bought the field at the back of his house and dug out a pond where there was a natural spring.

Of course it became home to rare newts (and toads I seem to recall). He then learned how to steam wood in order to bend it to build a boat to row to the island on the pond.

What a great man. Who blessed us all who knew him. He didn't rest on his laurels or his opinion of himself, but moved forwards. Always most interested in his new project.
If asked to talk about the Oliver and Peter combo, I always, in signifying differences between them, remember the question from a young girl at one of the BFI events we staged.

A hand went up, the microphone made its way to her, and a small voice nervously piped up 'Where are the Clangers now?'

This being long before there was talk of remakes, Oliver Postgate in his slightly romantic, yet Yaffley way said 'Goodness, well, yes, their doing alright, getting on with their lives, living on their planet...'


Peter interrupted Oliver with a measured 'They are in a tin trunk under my desk'

And so they were.


Thankyou Peter for all you gave us.
Loaf

July 2018



.
Pogles' Wood Kickstarter Party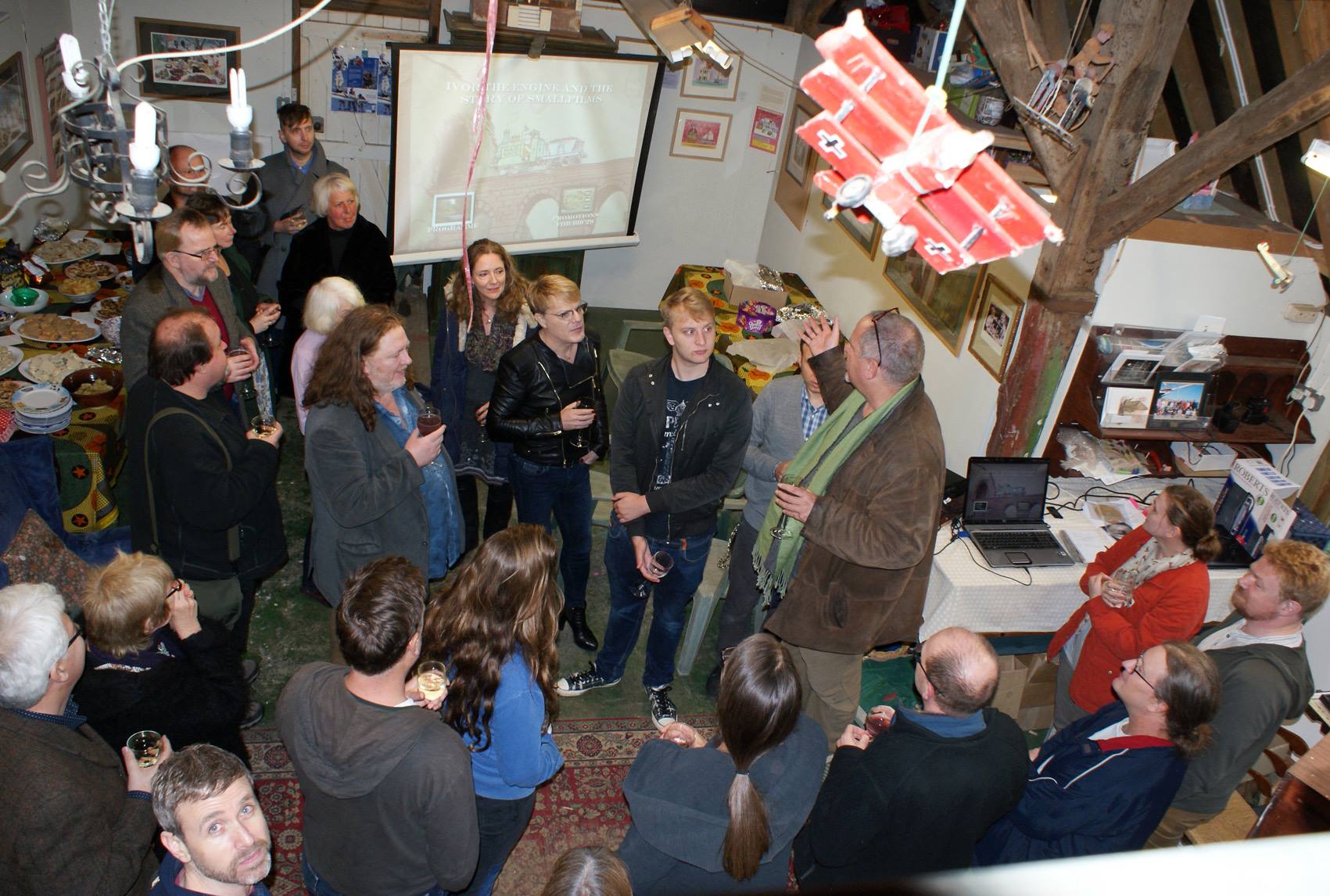 On the seventeenth of October 2015, somewhere in the heart of the Kent countryside a handsome group of people met with Loaf of The Dragons' Friendly Society to visit the celebrated puppet maker and set designer, Peter Firmin, to hear the story of Smallfilms.
Eddie Izzard a lifelong fan joined us.
Here he is with Peter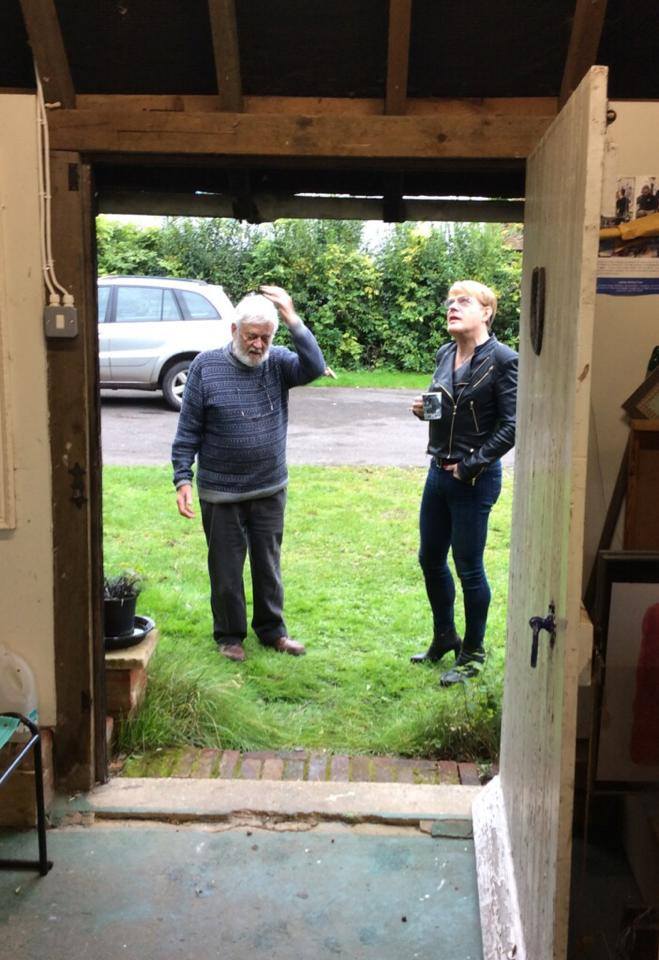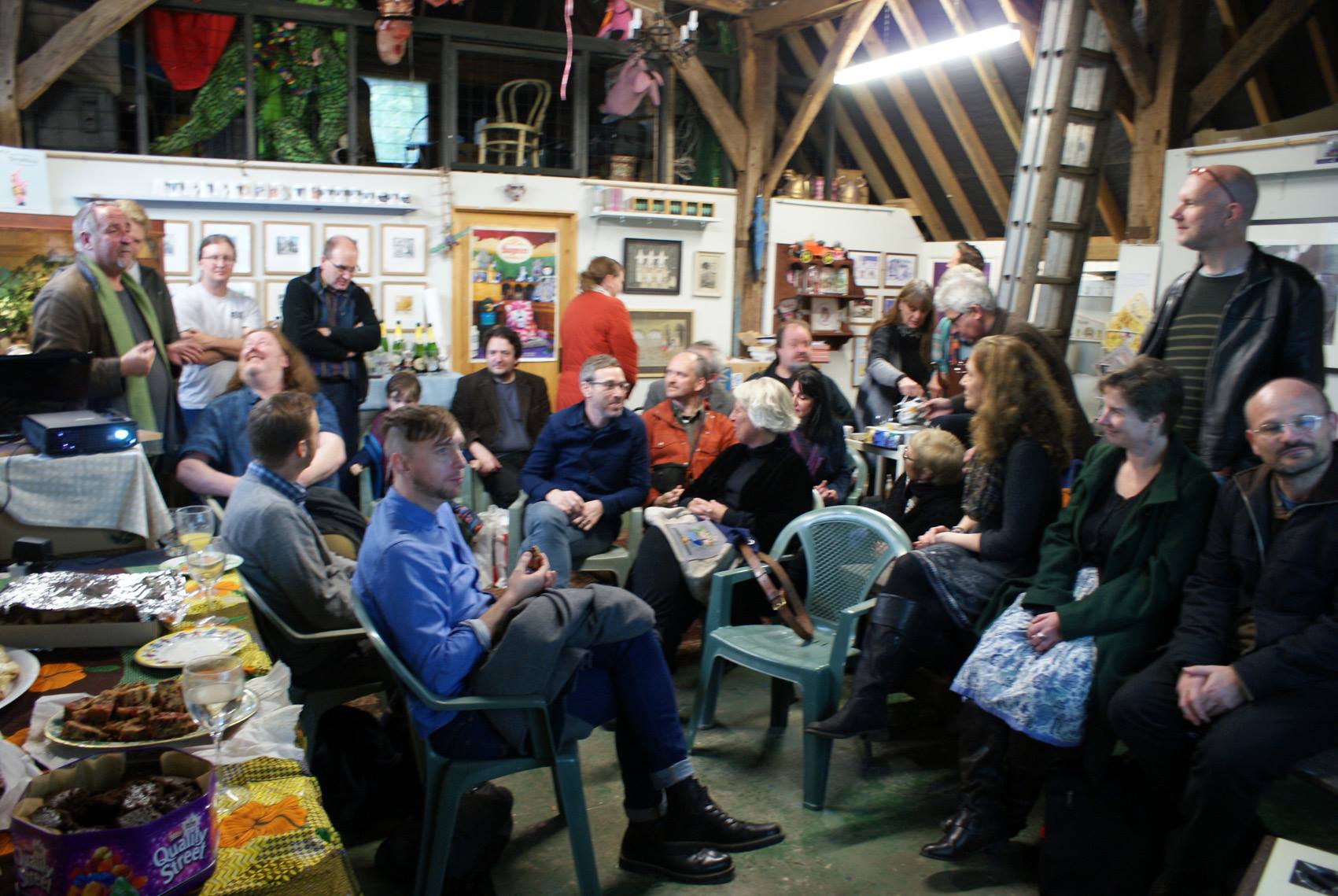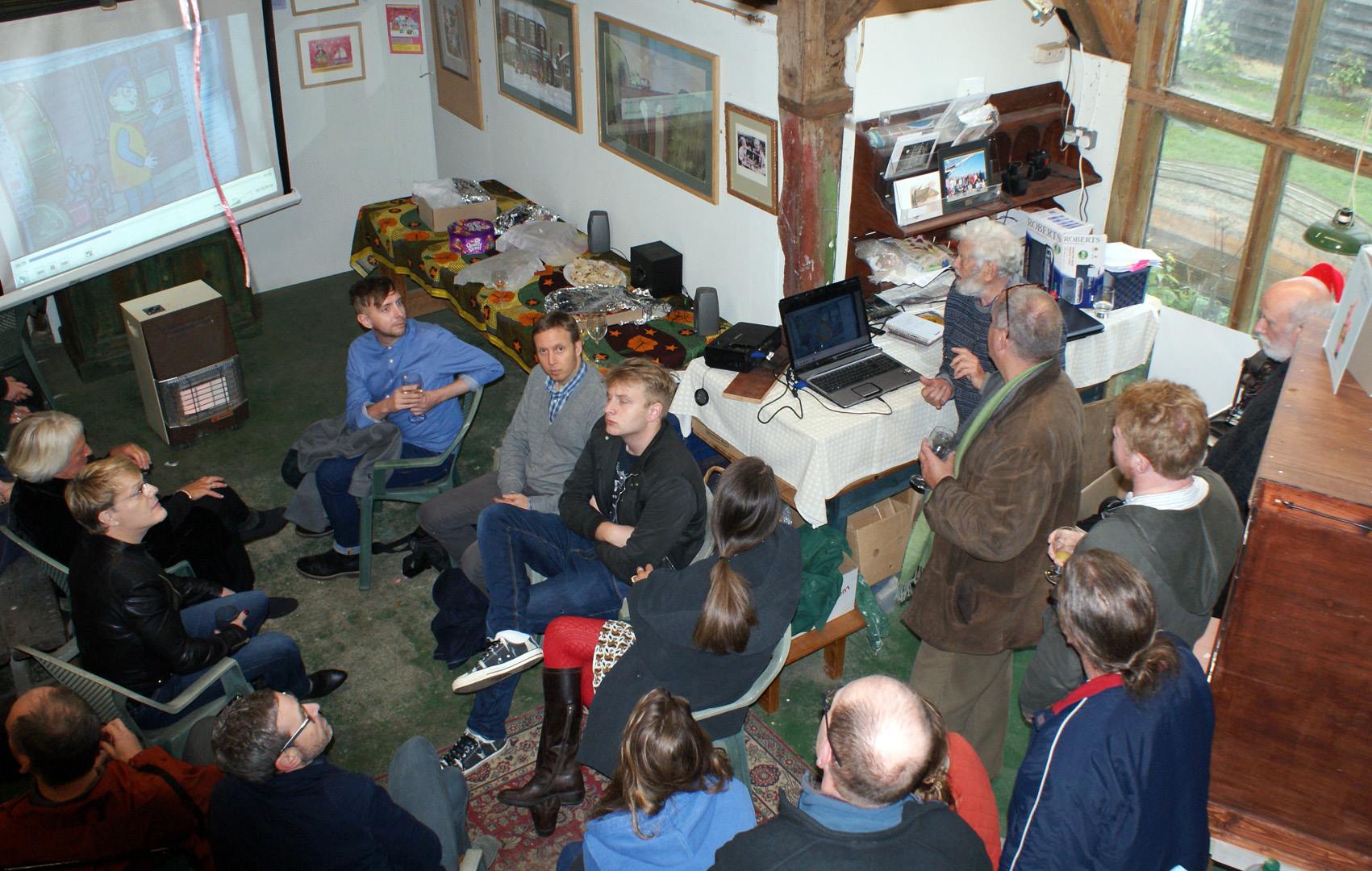 We all met in the barn where Peter worked with Oliver Postgate to make such children's classics as Pogles Wood, The Clangers and Bagpuss. The event was arranged to help celebrate the pending release of fourteen episodes of Pogles Wood on DVD which have remained unseen since their broadcast by the BBC in 1968. Of course the Pogles were guests of honour, having escaped Canterbury Museum for the weekend but other special guests included Bagpuss and Basil Brush who were also made by Peter.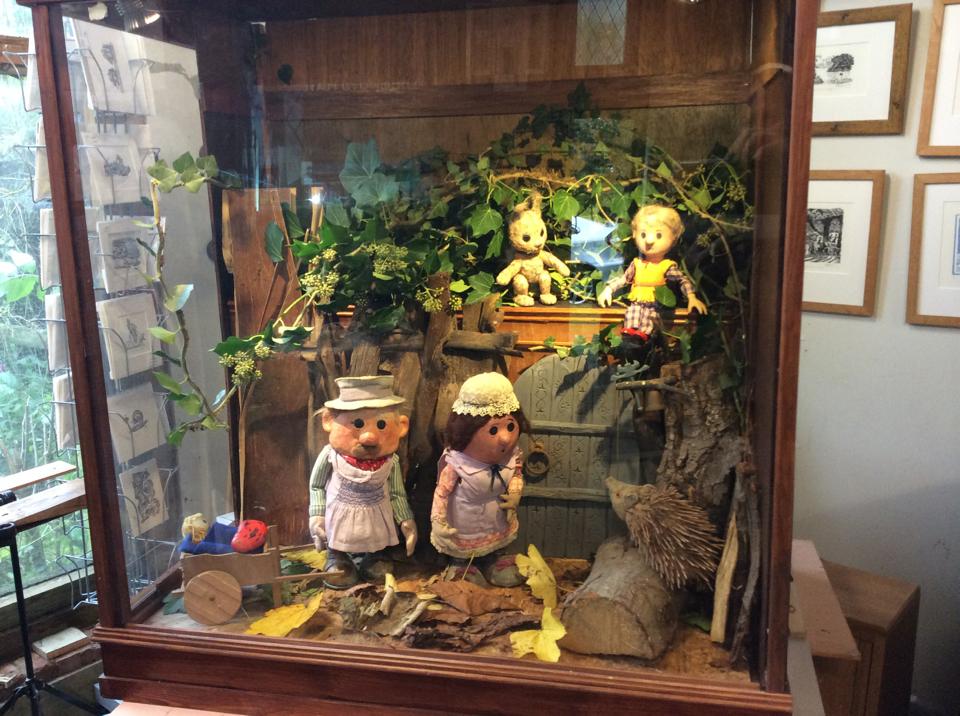 Dan Postgate (Oliver's son) with Basil Brush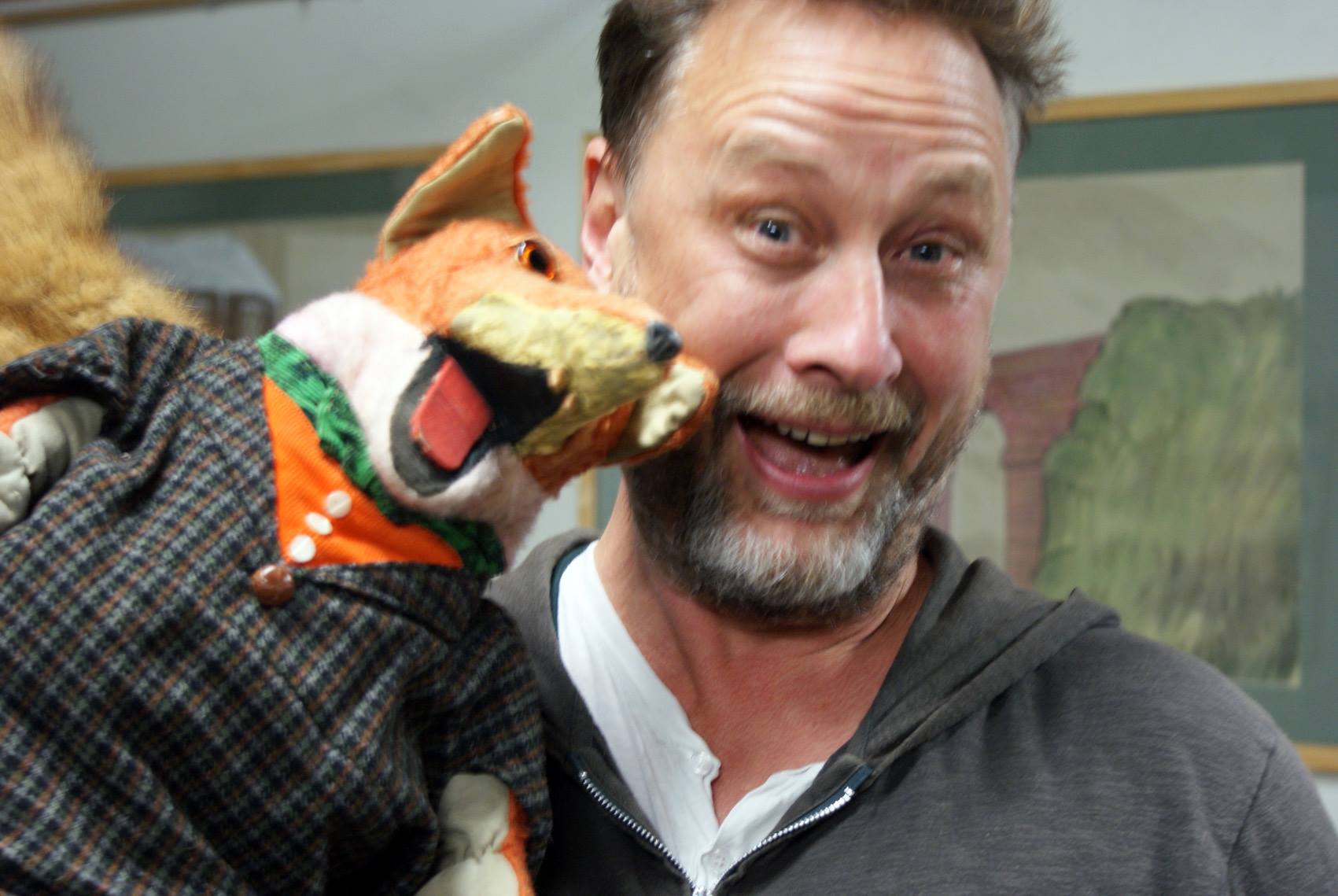 It was a truly wonderful afternoon of sandwiches, cake and bilberry wine in the company of Peter while he told us about the fantastical world of Smallfilms. The day culminated in the screening of an episode of Pogles Wood which everyone agreed had maintained its magic. So thank you to everyone who attended and made the day so special and also to everyone who helped with the kickstarter campaign.
These films are now ready !!
Loads of pictures on our Facebook page

Many many congratulations to our fabulous Peter Firmin and Dan on the Clangers' Childrens BAFTA!

Out now!!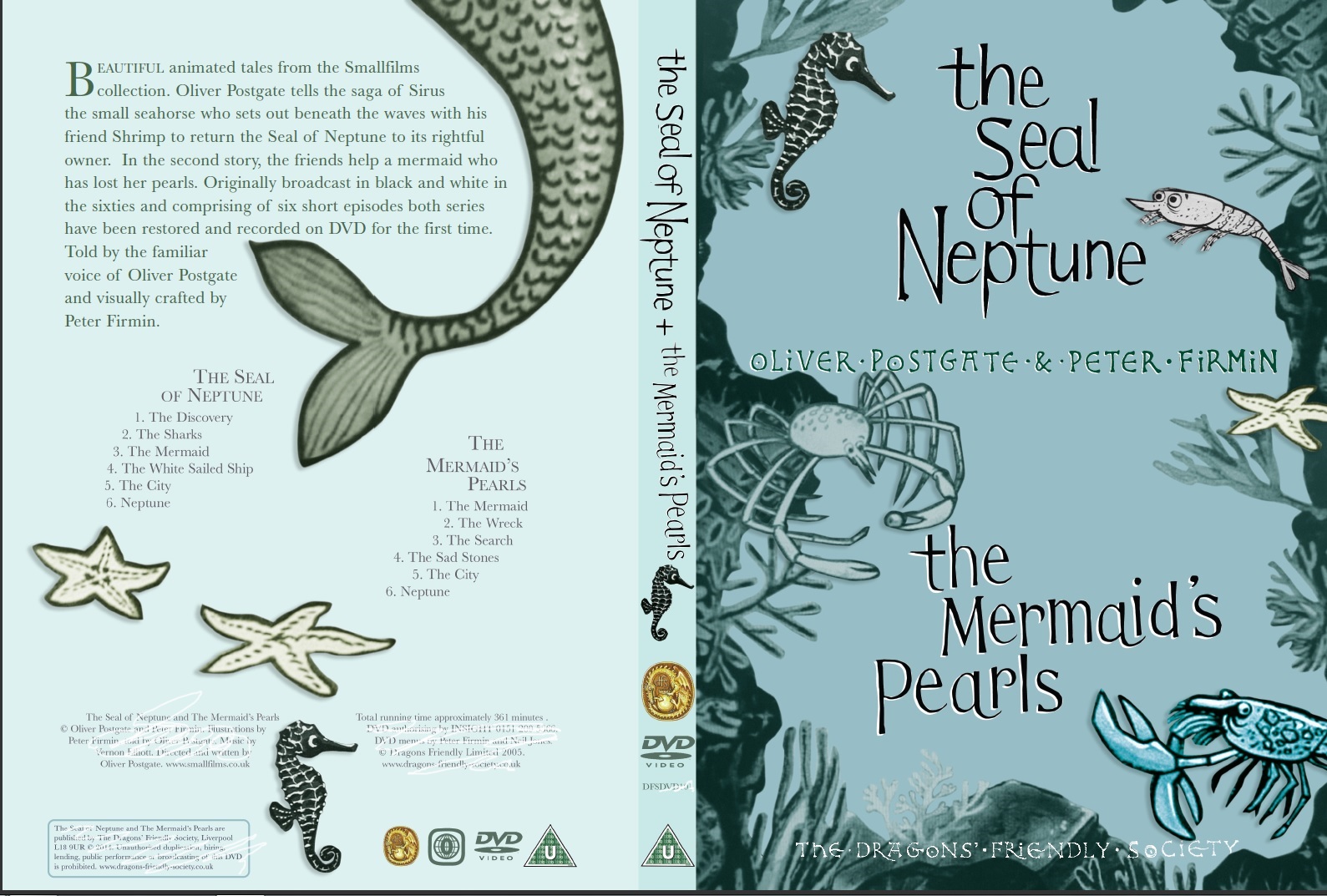 For the first time since the 1960s, Oliver Postgate's classic stories of The Seal of Neptune and the 1963 Mermaids Pearls.

.... in time for Christmas!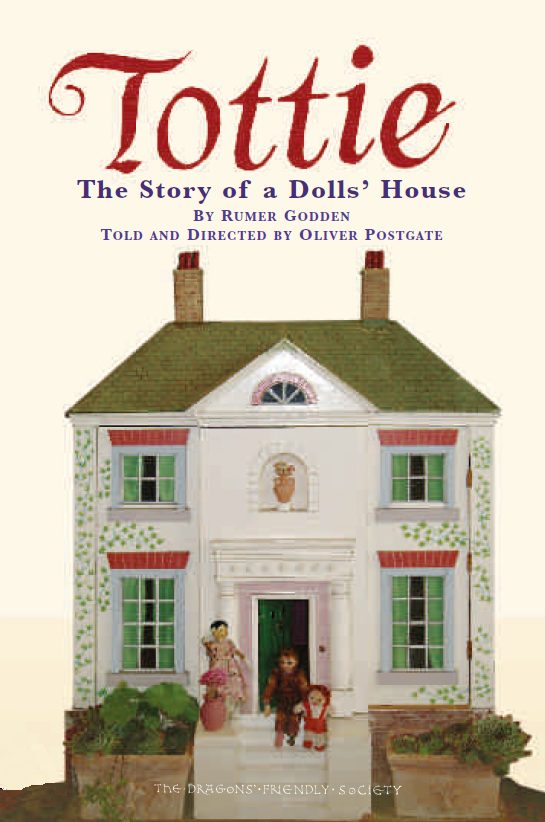 Also we are happy to say that we have negotiated the rights to release Oliver's series Tottie: The Story of A Dolls House
it will be on sale from us at a cost of £14.99 inc P&P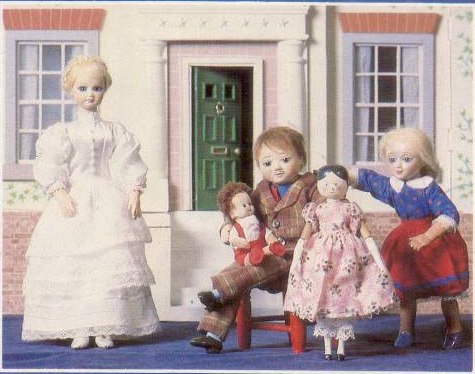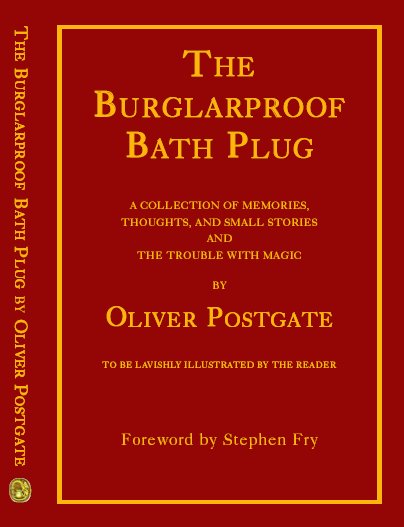 Oliver' s final work was to collate and produce this book. Click on the cover for details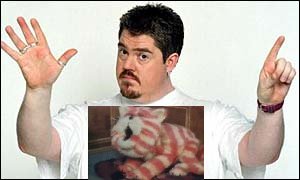 Oliver and Peter were presented with an award for their lasting contribution to Children's Entertainment by the charity Action for Children's Arts at the Savoy Hotel in London on 11th October 2007.
Nick Park make the presentation. Oliver couldnt make it but three of his sons were there, as well as Peter and Joan and their 6 daughters!
It was a very moving occaision. We heard from some of the great and the good from British Childrens TV, a full write up will follow but here is a photo of Nick Park (left) with Loaf, Bernard Cribbins (front) Peter and Monica Sims, one of the great and inspired minds behind the commissioning of Children's TV in the 1960s and 70s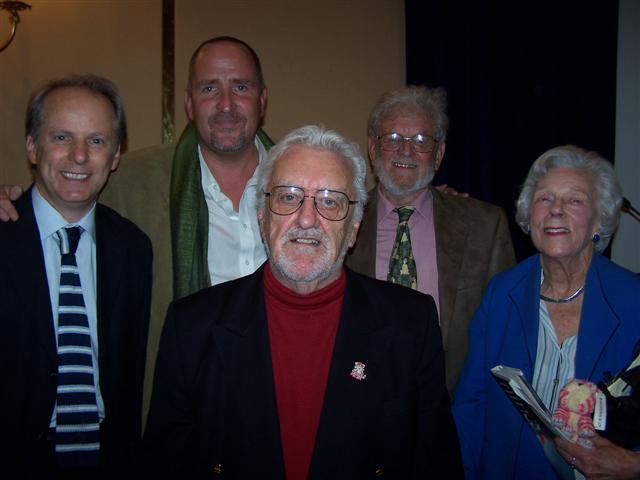 When I get the official photos I will stick em up

NOGGIN FIGURINE
FOR SALE!!
click on the image for information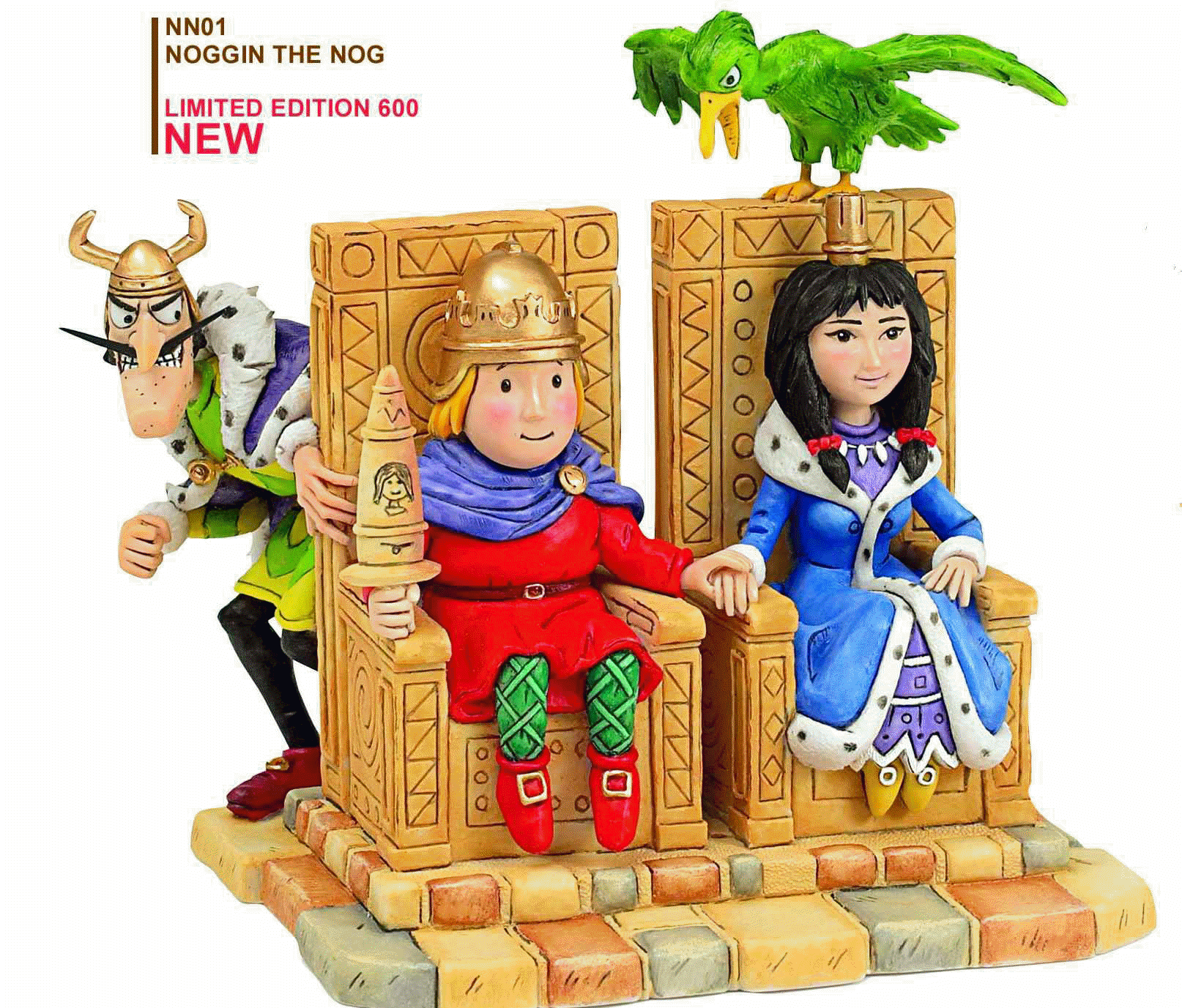 PAST EVENTS NEWS
February 2007
Sadly Oliver didnt feel well enough to attend, but Peter was more than happy to launch the Viking Festival at York, thinly disguised as Thor Nogson !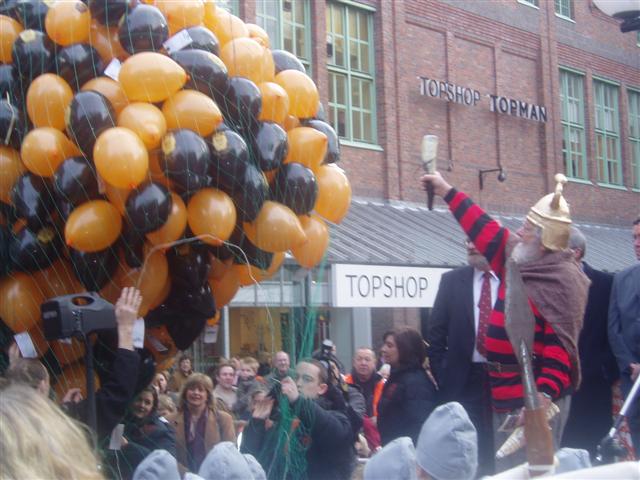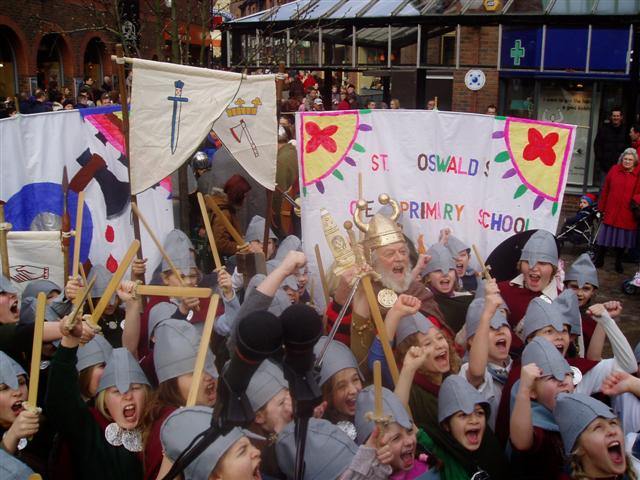 R.I.P. RONNIE STEVENS
1925-2006
We are all very sorry to hear of the death of Ronnie Stevens, the voice of Graculus and Romf in Noggin - aged 81.
Here he is onstage with Oliver and Peter at the NFT a few years ago. A talented, quietly spoken and charming man who will be greatly missed.
Click here to read of his long and varied film career or on the picture to read his obituary in the Telegraph.
Our thoughts go out to his son and family and friends.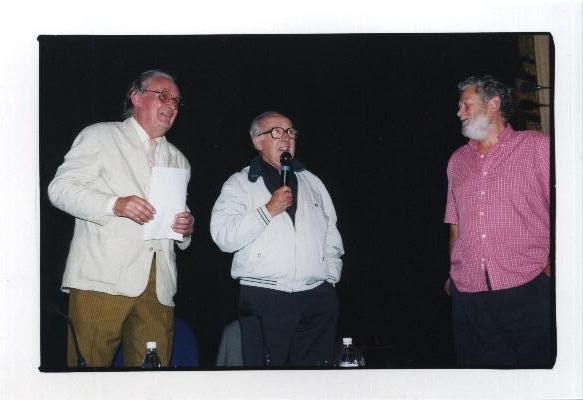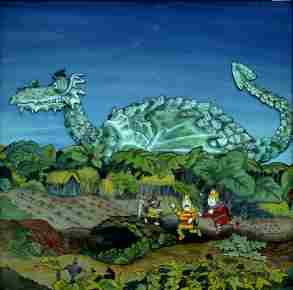 Smallfilms Event
Old News
On Saturday 20th November 2004 at 4.15pm -we enjoyed a galloping journey through the history of Smallfilms with Oliver and Peter at the National Film Theatre
It was a bit of a rush as we could have done with three times our allotted 90 minutes.. but hey ho.
SMALLFILMS
An illustrated master-class
From the dark sagas of Noggin the Nog to the homely world of Bagpuss, the power and simplicity of their work have made Peter Firmin and Oliver Postgate masters of the art of television story-telling.
Come and hear about their highly original production techniques, see favourite clips and ask questions of the two men who have spent their lives making some of the most cherished works of children's television

Our Noggin event at the British Museum... photos online.
click on the photos below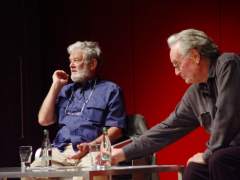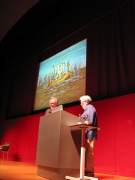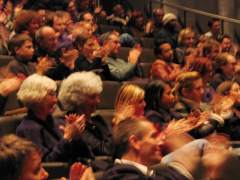 (Why the British Museum ?... because its where the 12th Century Lewis chessmen live, and it was they who inspired Peter to write the first ever Noggin story)
300 + people enjoyed an enchanting evening.

POGLES WOOD Characters on Exhibition in the MUSEUM OF CANTERBURY
The Pogles, Clangers and Bagpuss and friends are on permanent display with Noggin's flying ship.
For more details contact:
MUSEUM OF CANTERBURY
Stour Street
Canterbury
Kent
UK
Tel: + 44 (0)1227 475202
museums@canterbury.gov.uk

Watch this space for further announcements.

Personal Note and Credits
Thanks
To all friends of Dragons ....
Most especially to Oliver Postgate and Peter Firmin, creators of Soup Dragons.
Thanks also to Stephen Fry, Phill Jupitus and Jonathan Ross for his tireless and selfless plugging, Mike March at March design, Lisa and Ken at Insight, Warren at 360 Media/Granada TV , Rob McManway for looking after ebay at a small profit, David Allsop, Veronica Taylor at the NFT, Richard Ingrams of The Oldie Magazine, Terry Wogan at the BEEB, Nick Park, Peter Lord and David Sproxton at Aardman and to Nigel Baker and Neil Jones for helping to make this website the cool green place it is.
Thanks to all.
Did I miss anyone ?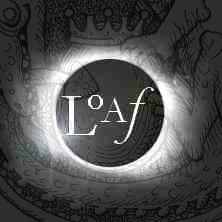 Summer 2007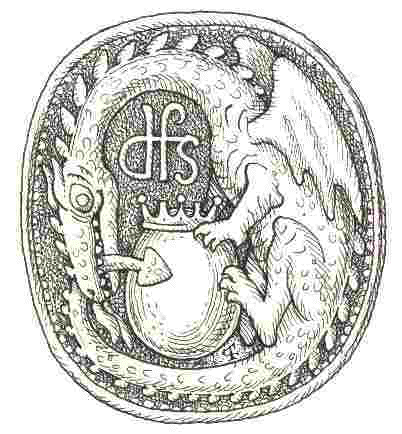 © Dragons Friendly Limited 2001-2018
ALL RIGHTS RESERVED
original artwork photographs text and characters
© Peter Firmin and Oliver Postgate